Error: Not found or permission denied.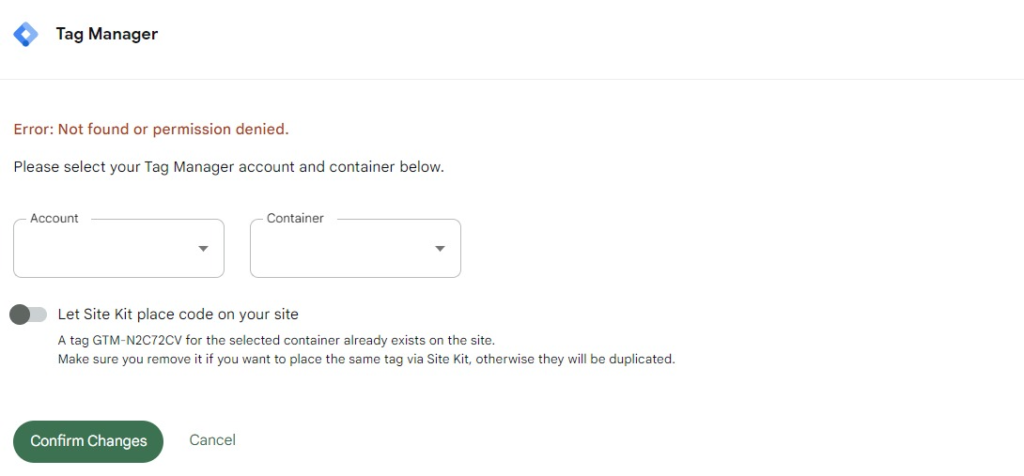 In Site Kit, the Google account that was used to set up the Tag Manager module determines which accounts and properties are available for tag placement and Site Kit dashboard data. The "Error: Not found or permission denied" error appears in Settings > Connected Services > Tag Manager when a user does not have access to these associated Tag Manager account and properties. It can also appear if the Site Kit-connected Google Tag Manager account was deleted.
To resolve this, reach out to the owner of the connected container and ask them to grant you access to the connected Tag Manager container. 
If no other administrator has previously connected the Tag Manager module within Site Kit but you are seeing this error, check your Google Tag Manager trash can for any deleted accounts. If you can determine that an account exists within the trash can that was previously connected via Site Kit, you can restore it to resolve the Site Kit error.
Alternatively, you can change the connected Tag Manager account and property by selecting an existing account and container or by allowing Site Kit to create an account or property for you and clicking Confirm Changes. Note that if you change the connected Google Tag Manager container, which may have been connected by another administrator, any Google Tag Manager snippet inserted via Site Kit previously will no longer be active on your site. 
Support
For additional assistance, feel free to open a support topic on our WordPress.org support forum. Note that we are limited to Site Kit-related questions about Google Tag Manager, including questions about:
Setup issues within Site Kit
Permission notices 
Selecting a container
For Tag Manager-specific questions such as help with tag types or publishing your container, use the Tag Manager Help Center for assistance. The Site Kit support team does not have access to Tag Manager accounts and are unable to assist with account-related issues. 
Support Resources